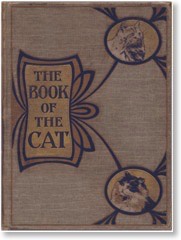 « It has been suggested to me by many of my "catty" friends that I should write a small handbook for cat fanciers. By arrangement with the Kennel Publishing Company I have been enabled to utilise the paragraphs of Practical Pussyology which have appeared during the last fifteen months in Our Cats. I have had many years' experience with cats and kittens, and have also a real love for them, without which I do not believe any one can be a successful breeder and exhibitor of cats. What is worth doing at all is worth doing well, and to combine profit with pleasure is a most desirable end to have in view. The object, therefore, of this little book is to assist cat lovers to become cat fanciers. I trust that it may be found helpful and instructive. »
The Book of Cat est un formidable livre de Frances Simpson,  ,c'est une bible pour tout eleveur passionné par l'histoire des races.
A avoir absolument , mais malheuresement difficile a trouver et relativement cher entre 200 et 400€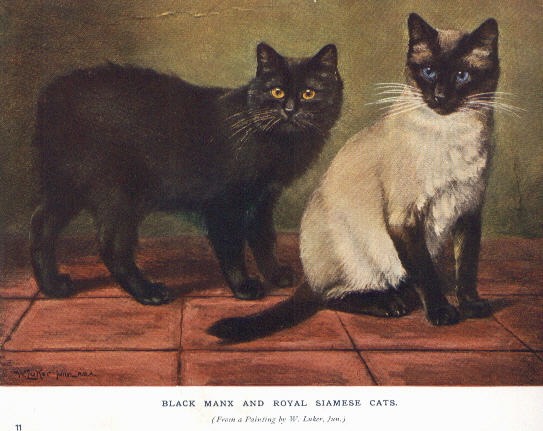 L'une des icônes de rares chat collections de livres, du livre Frances Simpson du Chata été publié dans plusieurs couvertures différentes, mais tous étaient des premières éditions (il n'y avait pas les éditions ultérieures); aucun n'avait une jaquette de papier:(1) de la «deluxe» version avait l'art-déco couvre avec des détails dorés et gilt-edgedpages; Il y avait une version moins chère (2) sans le doré bordures aux pages, mais toujours avec les couvertures d'or détaillées; une troisième version (3) utilisé le vertbougran avec un collé-sur l'image de l'une des planches en couleurs sur la couverture(pas de doré, sauf pour le titre sur la couverture et la colonne vertébrale); l'; la version (4)a été relié en rouge du Maroc, et est généralement considéré comme le «bibliothèque»la version forme finale du livre était la version sérialisée (5) - il a été publié dans douzemois des magazines des questions (un chapitre par numéro) la couverture en papier épais. En raison de son format  une copie complète de cette version est extrêmement rare.
Le livre contient 12 chapitres couvrant l'ensemble des races connues pedigree à l'époque, ainsi que les questions telles que l'élevage, la santé.Presque chaque page comporte un ou plusieurs planches en couleurs qui ont été insérés dans le livre (des reproductions de peintures à l'huile; les planches en couleurs premiers chats à paraître dans un livre). Simpson avait contacté tous les meilleurs éleveurs et les propriétaires , et inclus leurs informations aux côtés de son texte soigneusement étudié. C'est une icône de l'édition ainsi qu'un superbe historique du chat comme animal de compagnie dans les îles britanniques au tournant du siècle.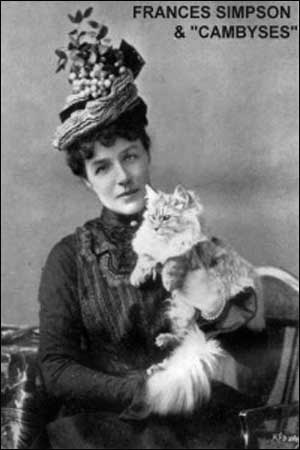 « Fanciers have long felt the want of a work dealing in a popular manner with cats, and it was therefore with great pleasure that I undertook to write The Book of the Cat, and to give the results of a long experience in as simple and interesting a form as possible, so that the book might be instructive to cat fanciers, and also readable to that portion of the community which loves cats for themselves and not only for their prizes and pedigrees. It is possible that the beautiful reproductions in this work may result in the conversion of some cat haters, who, seeing the error of their ways, may give poor puss a corner in their hearts. Dogs are more essentially the friends of men, and cats may be considered as the chosen allies of womankind... »
FRANCES SIMPSON
A key figure in the cat fancy, Frances Simpson bred longhairs and was one of the earliest judges.  She wroteCats and All About Them which was followed by the seminal work The Book of the Cat. Pictured above with her silver male Cambyses.
Une figure clé de la cat fancy, Fances Simpson eleva des long hair et fut l'une des première juges. Elle ecrivit Cats and all about them qui fut suivi par l'immense travail du the Book of cat. Ci dessus en photo avec son chat silver, male, Cambyses